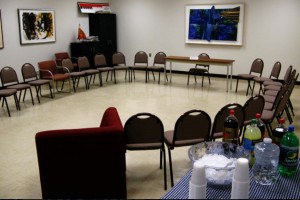 Firstly what does mutual aid mean? As a rule most people will have an idea of what self help is. Self help is possibly reading a book which will motivate you to either get fit, get rich, get motivated or get well in someway. A self help group is a place where peers come together to support one another with a common problem. Up until 10 years ago most such groups were called self help or support groups until it was pointed out the contradictory nature of the terms 'self help' and 'support'. It suggests that both individualism and cooperation can co-exist, which they can but a better way to say this was to start calling self help groups mutual aid groups.
In relation to addiction, the most commonly accessed mutual aid groups are Alcoholics Anonymous (AA), Narcotics Anonymous (NA), Gamblers Anonymous (GA) Cocaine Anonymous (CA) Overeaters Anonymous (OA) and Al-Anon. AA is a group set up to support those that identify themselves as having a problem with alcohol. The group members will identify with having a problematic relationship with alcohol in someway. The idea of the group is to work through a 12 step program of recovery with someone ( often referred to as a sponser ) who has been abstinent from alcohol for a period of time and has already worked through the 12 steps. The aim is to become abstinent from alcohol and improve ones quality of life and the lives of other people who have been affected by the alcoholic behaviour. It is often reported by group members that it is the 'therapeutic value of one alcoholic helping another' that they find most useful.
In mutual aid groups, specific modes of social support emerge. Through self-disclosure, members share their stories, stresses, feelings, issues, and recoveries. They learn that they are not alone; they are not the only ones facing the problem. This lessens the isolation that they may experience. NA and CA operate in the same way but the focus is more on addiction as a whole rather than to one particular substance. GA focuses on the addictive nature of gambling and again suggests abstinence from gambling in order to gain recovery. OA is slightly different as it does not suggest that you abstain from food but will often help members to discover what their trigger foods are and might suggest abstention from those. Again it is the combination of the 12 steps and the support of the other group members that help members enter into a recovery process. The Al-Anon Family Groups are a fellowship of relatives and friends of alcoholics who share their experience, strength and hope in order to solve their common problems," believing that "alcoholism is a family illness and that changed attitudes can aid recovery" (Al-Anon 1981).
AA was originally founded by 'Bill W' and 'Dr Bob' in 1935. It is now estimated that over 1million people attend more than 40,000 groups in over 100 countries (Borman 1992). AA and other anonymous groups have become to be known as a "twelve-step mutual aid groups" because their program's  for abstinence involves the following twelve steps:
We admitted we were powerless over alcohol—that our lives had become unmanageable.
Came to believe that a Power greater than ourselves could restore us to sanity.
Made a decision to turn our will and our lives over to the care of God as we understood him.
Made a searching and fearless moral inventory of ourselves.
Admitted to God, to ourselves, and to another human being the exact nature of our wrongs.
Were entirely ready to have God remove all these defects of character.
Humbly asked Him to remove our shortcomings.
Made a list of all persons we had harmed and became willing to make amends to them all.
Made direct amends to such people wherever possible, except when to do so would injure them.
Continued to take personal inventory and when we were wrong promptly admitted it.
Sought through prayer and meditation to improve our conscious contact with God as we understood Him, praying only for knowledge of His will for us and power to carry that out.
Having had a spiritual awakening as the result of these steps, we tried to carry this message to alcoholics and to practice these principles in all our affairs.

In the South Manchester area alone there are approximately 80 AA meetings a week (click here to download a list of the meetings available).  In Hale Altrincham and wilmslow area alone there are 14 AA meetings a week.
It is becoming more widely recognised that society as a whole depends largely on organisations and services such as The Government, The Police and the NHS to provide help for issues they may be experiencing. Mutual aid groups are tapping in to a new movement known as Asset based Community Development.
ABCD is a set of values and principles which:
Identifies and makes visible the health-enhancing assets in a community
Sees citizens and communities as the co-producers of health and well-being, rather than the
recipients of services
Promotes community networks, relationships and friendships that can provide caring, mutual
help and empowerment
Identifies what has the potential to improve health and well-being
Supports individuals' health and well-being through self- esteem, coping strategies, resilience
skills, relationships, friendships, knowledge and personal resources
Empower communities to control their futures and create tangible resources such as services,
funds and buildings (Foot and Hopkins, 2010)
Addiction recovery Mutual aid groups are an asset to the community as you do not need to be referred into them by a specialist worker you can turn up at any meeting at any time and if you have a desire to be abstinent from your particular substance and/or addictive behaviour you can become a member without having to pay any fees.
Therapy works well alongside mutual aid recovery as often becoming abstinent can involve looking at what may have underlined the addiction in the first place. Therapy provides a safe non- judgemental place in which this can be explored at your own pace. If you want any more information on abstinent based program's and/or wish to enter into addiction therapy contact me on 07983726647 or email victoriaabadi66@gmail.com